Turnierausschreibung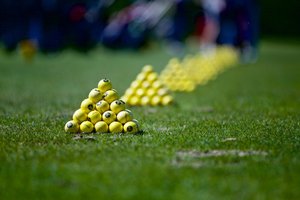 Das Turnier
Datum / Uhrzeit

Samstag, den 27. Mai 2017

Kanonenstart um 10:30 Uhr

Austragung
Einladungsturnier über

18 Löcher

im GolfPark Leipzig
Spielform: Einzel nach Stableford
Vorgabenwirksamkeit
Das Wettspiel ist

nicht vorgabenwirksam.

Teilnehmerzahl

72 Startplätze

verfügbar.
Gehen mehr Anmeldungen ein, entscheidet die frühere Eintragung.
Spielergruppen
Werden nach Vorgaben gemischt

(hoch/mittel/tief)

aufgestellt.
Teilnahmeberechtigt
Teilnahmeberechtigt sind Amateure, die in einem dem DGV angeschlossenen
oder einem anerkannten ausländischen Verein Mitglied sind.

Die

Höchstvorgabe

für dieses Turnier berägt

-54,0

Spielbedingungen
Gespielt wird nach den offiziellen Golfregeln (einschließlich Amateurstatut) des Deutschen Golf Verbandes e.V. und dem EGA-Vorgabensystem. Darüber hinaus finden die Platzregeln sowie die Wettspielordnung und die allgemeinen Spielbedingungen des GolfPark Leipzig Anwendung.
Wertung / Preise

Brutto: 1. für Damen und Herren getrennt
Netto: 1.-2. in drei Preisklassen (A,B,C)

Sonderpreise:
Longest Drive Damen / Herren
Nearest to the Pin Damen / Herren

Beat the Pro

Siegerehrung
Die Siegerehrung findet im Anschluss an das Turnier statt.
Meldeschluss

Donnerstag, 25. Mai 2017, 12:00 Uhr

Spielleitung
Die Spielleitung wird am Turniertag durch Aushang bekannt gegeben.
Beendigung des
Wettspiels
Das Wettspiel ist 15 Minuten nach Verkündigung des Ergebnisses beendet.
Proteste sind nur

vorher

bei der Spielleitung einzureichen.
Änderungsvorbehalt
Die Spielleitung hat in begründeten Fällen das Recht, die Platzregeln zu ändern,
Startzeiten und Spielergruppen neu festzulegen, die Ausschreibungsbedingungen
zu ändern bzw. zu ergänzen.



Sonstiges:


Mit seiner Anmeldung stimmt der Turnierteilnehmer zu, dass sein Name, sein Handicap
sowie der Heimatclub in der Startliste und dem Ergebnisdienst im Internet veröffentlicht wird.
Spenden

Ihre Spende in Höhe von 80 € oder mehr überweisen Sie bitte im Vorfeld. Spendenquittungen erhalten Sie nach dem Turnier.
Spenden: Wir bitten bei Turnierteilnahme die Spenden von 80 € (oder höher), mit Angabe Vor- und Nachname + Spende Röntgen Cup 2017, bis zum 19. Mai 2017 an folgende Kontoverbindung zu überweisen:

IBAN: DE44 5004 0000 0403 2686 12
BIC: COBADEFFXXX
Commerzbank Neu-Isenburg